How to try SiteWorks on your computer using Local WP
WordPress doesn't have to run on the Internet. If you have a computer running MacOS, Windows or Linux you can install WordPress on your own computer. This uses a product called Local WP, or just Local.
Web Managers receiving the training run by the SiteWorks Team will need access to a computer capable of running Local. It will also be used to preview and plan migration from Site Builder. Once live, Local will be invaluable to try things out or train colleagues to be future Web Managers. We will be recommending ways to clone your live SiteWorks site to make a private copy for training or to just try things out.
The steps covered in detail below are:
Install the Local WordPress development software for your computer
Download the latest SiteWorks demo website zip file or Site Builder zip export
Start Local and import a website from the downloaded zip file
Log in to WordPress and start exploring the website
Troubleshooting.
1. Install Local
Download the software for your computer from https://localwp.com/ and install in the usual way. Note this file is quite large – 500MB+
You will need to provide an email address to download the software, and will get a (very) few emails, but there is no need to create an account or provide your name or phone number.
If you are given any choices during the software installation just go with the default options. If you are using Windows, pay particular attention to the installation notes.
2. Creating Migrated and a Starter sites
A Starter Site is a bare-bones WordPress site with the SiteWorks theme and plugins plus a few fictional example pages. If you are learning SiteWorks then install this.
If you have joined the SiteWorks programme and completed your SiteWorks training and study Workbook you will be are allocated a member of the SiteWorks Migration team. Assuming you have a Site Builder site your migrator will arrange for a Site Builder Migrated Site export zip file to be made available for you to download.
For both a Starter Site and a Migrated Site you will be importing a zip file into Local to create a WordPress SiteWorks site with everything your need. Note that Local can host multiple sites so you can compare a Starter with a Migrated site at the same time.
For a Starter Site download the zip file from https://u3a-llandrindod.org.uk/training/siteworksdemo.zip
Save the zip file to your Downloads or similar folder on your computer. You should not extract the .zip file contents. If using Safari, please ensure your browser settings do not automatically extract zip files. These notes may help.
3. Start Local and import the website
On the File menu, choose Import Site. On Windows and some computers it may be on a three-bar menu.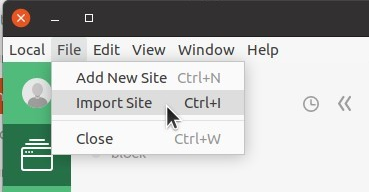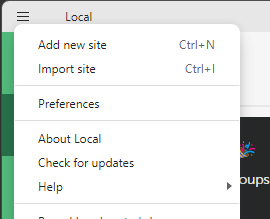 You should import the siteworksdemo.zip file or the SiteBuilder migration zip file you downloaded in step 2.
If you are given any choices during the import process, choose the default answers or the latest version of PHP etc.
Importing may take a while. You may need to restart Local to see the site you have created listed.
4. Log in to WordPress
After the website has imported, you can launch the website, either to view the actual website (Open site button) or to log in as the Administrator (WP Admin button).
Turn on 'One-click admin' so you will not need to log in to use the WordPress admin dashboard.
For a Starter Site only the pre-set WordPress administrator username/password is admin / 112233 (Both are case sensitive).
For a Migrated Site launch the site using the WP Admin button. If the page remains blank try stopping the site (click top right) and starting it again.
You need to keep Local running all the time you are working on the website. When you have finished work, you can close Local. When you restart Local the website will be as you left it.
If you want to 'start again from scratch', delete the u3ademo website (right-click the site name under the heading Local Sites) and import a fresh copy of the .zip file.
Please note that the u3a demo website is a snapshot of the theme files, plugins and content at the point the zip file was created. The zip file will be updated from time to time, so always download a fresh copy to be sure of the most recent version.
Those interested in contributing to the development work can obtain the current versions of the theme and plugins from the repositories on GitHub. For access to the repositories please email Nick Talbott giving your GitHub username.
4. Troubleshooting
Windows
In general, most problems seem to be down to anti-malware products on Windows either blocking access to the webserver port on your computer, or preventing the hosts file being updated (the hosts file enables your browser to find your Local site on your computer).

The public Local Community forum can be a good source of suggestions. Take a look in their FAQ or search for your issue.
When you import a site Windows may alert you with 'Do you want to allow this app to make changes to your device?'. Click Yes. Local is appending information to your 'hosts' file. We have had reports of updating the 'hosts' file fails because the file has been set to read-only by anti-virus software. The start of this article explains how to change the attribute to read-write and has notes and various anti-virus products.
If you have installed a zip file and find your get a "404" page on your site then try re-starting your computer.
If you find your site runs unacceptably slowly then try this change.
Click on the Local 3-bar menu and then Preferences > New site defaults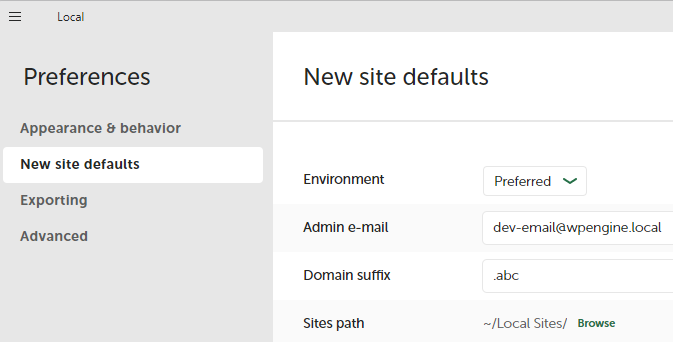 In the box "Domain suffix" you will see '.local'. Change it to something else e.g. '.abc' as above and click on 'Apply'. Now install a new or imported site. It seems the suffix '.local' on Windows can slow things down dramatically as it conflicts with other services.
Mac OS
Even though Mac OS is less common that Windows we have not had any reports of problems where Mac OS has been mentioned. Any tips we receive will be posted here.